Can power lines be submerged in water? Yes! And while it might not sound like a safe idea to have electricity travel underwater, this process is quite common and effective. 
Read on to learn more about underwater power lines:
What Is The Purpose of Submerging Power Lines In Water?
The purpose of submarine power cables is to safely transport electric current to islands and other on-water locations at high voltage. 
What Protects Submarine Power Cables?
The core of underwater power lines is designed with an inner conductor, electric insulation, and protective layers that resemble a coaxial cable. 
The insulation of these lines is roughly 30mm thick, whereas land cables are 5.5 to 8 mm thick.  This armour, also called the cable core, includes a sheath to prevent water intrusion.
The armour can consist of steel wires, soaked in bitumen for corrosion protection.
Are Underwater Power Lines The Same Thing As Submarine Lines?
Yes! Transmission cables for carrying electric power underwater are often called "submarine" cables because they travel under the water just like submarines. 
How Are Submarine Cables Installed?
Submarine cables are laid down by using boats or ships that carry the submarine cable across the water and slowly lay it out.
The cables are then connected to the transformer or pole on the other side of the water and hooked up to an island padmount. 
When it comes to getting poles out to the island for installation, they can sometimes be transported via ship or boat. However, if the poles are too large, a helicopter is needed to transport the poles to the island. 
To install the poles, we use a backyard track machine, ropes, or an excavator to dig the hole and set the pole. 
What Is an Island Padmount?
Island padmounts are generally the same as the padmounts you would see in front of a residential home. However, island padmounts are about ¼ of the size of a residential padmount and generally only support one home's electricity. These bases could be concrete or fibreglass. 
How Durable Are Submarine Lines?
Submarine lines come out of the water and up on rocks, or wherever they are feeding, to connect to the transformer or pole. Therefore, they must be incredibly durable to withstand the elements, especially ice push during the winter. 
Can Submarine Lines Go In Fresh Water And Salt Water?
Yes! Submarine lines can be installed in oceans, seas, straits, lakes, and rivers. 
How Do You Know Where Submarine Cables Are Located?
The cable lines are laid as per the plans given by the cable operator, to ensure the lines are tracked and can be located in the future. 
Cable routes are precisely selected to minimize risk and environmental impact.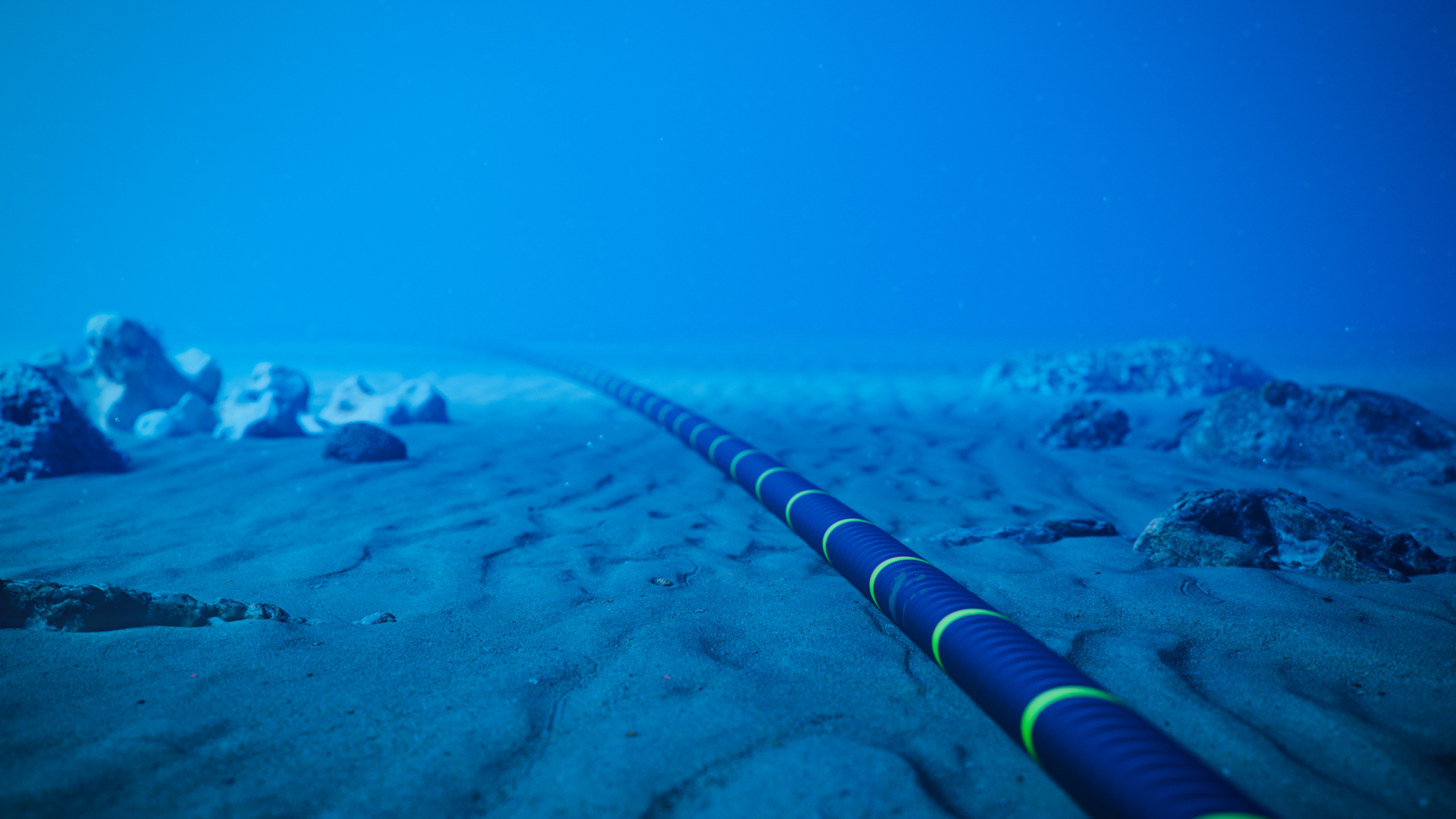 What Is The Cost of Underwater Power Lines?
Installing a submarine transmission cable can be costly. 
How Long Have Submarine Cables Existed? 
According to the European Subsea Cables Association, the first submarine cable to carry electricity was laid across the Isar River in Bavaria in 1811. 
In 1954 the world's first submarine HVDC Cable, Gotland 1, was installed. This was 98km long from Gotland Island to the Swedish Mainland and had a capacity of 20MW.
How Long Do Submarine Cables Last?
The lifetime of a submarine cable can be tens of years.
How Powerful Are Underwater Cables? 
Submarine power cables come in AC or High Voltage AC (Alternating Current) and High Voltage DC (Direct Current). The criteria for which type of cable to use is dependent on the route length, voltage, and capacity.
What Happens If Submarine Cables Break?
A working fibre transmits pulses all the way across the water, but a broken one will bounce it back from the site of the damage. 
By measuring the time it takes for the pulses to bounce back, we can figure out where along the cable a problem has occurred. 
It is important to note that technical interventions for repairing underwater cable lines can be costly and difficult.
What Regulations Exist For Underwater Cables?
We work under the authority of both the Ontario Ministry of Natural Resources and the Federal Department of Fisheries and Oceans. 
Permissions, notifications and permits are obtained from these organizations for any work, including maintenance, installation and removal of submarine cables.
When a submarine cable needs to be replaced, the decision regarding the disposition of the old cable is made in consultation with government agencies.
To learn more, please visit the Federation of Ontario Cottagers Association.
Can I Convert My Island Overhead Lines To Underground Lines?
The short answer is yes, it's possible to convert your island overhead lines to underground lines. 
However, this process is quite a challenge as if it is rocky on an island, it's difficult to dig and go underground with your line. 
Going underground also means you need to get concrete to the island, which is logistically challenging and expensive. 
Should I Convert My Island Overhead Lines To Underground Lines?
While converting your overhead lines to underground lines isn't easy, it is wise for those surrounded by trees that can fall on overhead lines and damage them. 
Having underground lines adds protection to your lines and reduces the risks of losing power during a storm. 
Who Should I Call About Submarine Cables?
If you have any questions about submarine cables or underground power lines on your island, give Sturdy Power Lines a call at 905-775-6829.
We are​​ proud to deliver professional electrical support from Lake Ontario to Muskoka and Guelph to Oshawa.
Should you require Emergency 24/7 Service, please contact us immediately at 1‑888‑478‑8739.