Panic. That's exactly the feeling our clients report when they first spot that a tree has fallen down on their property – especially if that tree is near (or now resting on) a power line.
While we don't want you to panic, we understand that these types of situations can be scary.
Should you require Emergency 24/7 Service, please contact us immediately at 905‑775‑6829 or 1‑888‑478‑8739.
In this article, we dig deeper into who is responsible for trimming trees near power lines and what steps need to be taken to ensure everyone's safety.
Should I try to remove or trim a tree that's near or on a power line myself?
No. In no situation should a person try to remove or trim trees near any power lines.
All trees near power lines need to be trimmed by a qualified contractor like Sturdy Power Lines or our go-to tree experts.
Attempting to trim trees close to power lines can be deadly.
Extreme caution is advisable.
Who is responsible for trimming tree branches around power lines?
Trimming trees on your property is the responsibility of the homeowner.
However, if your trees are close to a power line, you shouldn't complete this job on your own. Always call the experts.
If the tree branches are on public land, it's up to the power company to address any concerns or issues.
How often should I trim my trees to prevent power line issues?
To prevent any potential issues during bad weather, it is in a homeowner's best interest to visually inspect the lines for tree clearance annually.
If a homeowner does see an issue with trees coming in contact (or close to coming in contact) with a power line, we suggest calling your local utility company for an inspection.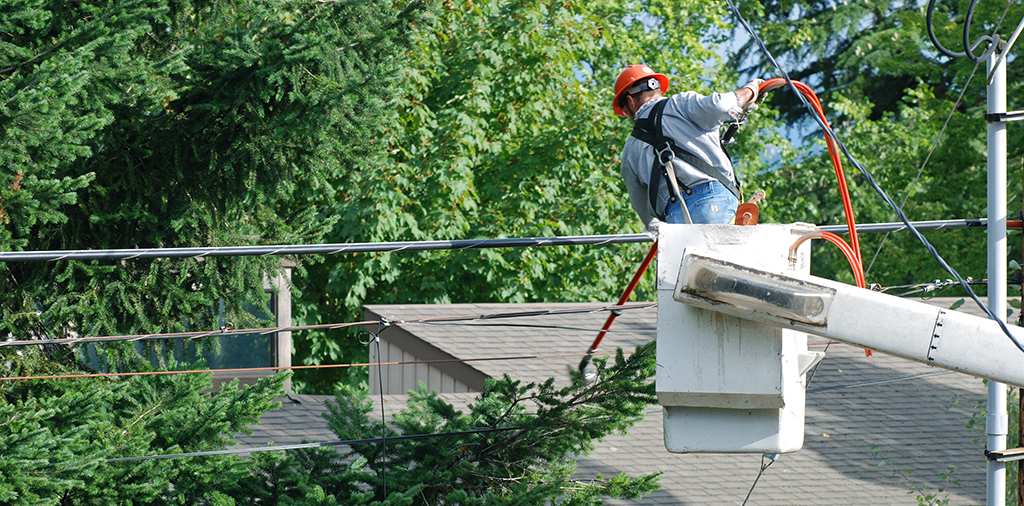 How close is too close when it comes to trees and power lines?
Trees shouldn't be closer than 3-4 metres to power lines – at minimum.
Tree branches touching or close to power lines can be dangerous. For example, a tree branch that moves in the wind can easily break, crack, and fall across power lines.
What do I do if I see a tree touching a power line?
When a tree touches a power line, you should keep away and warn others about it immediately. Next, contact your local utility company and report your concern.
What does the utility company do when trees are on power lines?
Utility companies do not trim trees on private property. Instead, they are responsible for isolating the power lines so that you can have a qualified contractor remove the trees.
How quickly will my power be restored once the fallen trees/branches are removed from power lines?
In some cases, fallen trees will knock out power. Once the utility company has ensured the power is off and the area is safe, your trees can be removed.
Please note that any work on power lines requires Electrical Safety Authority (ESA) inspection before your local utility provider can restore power to your home. This may cause a delay while they pass inspection and communicate to the utility.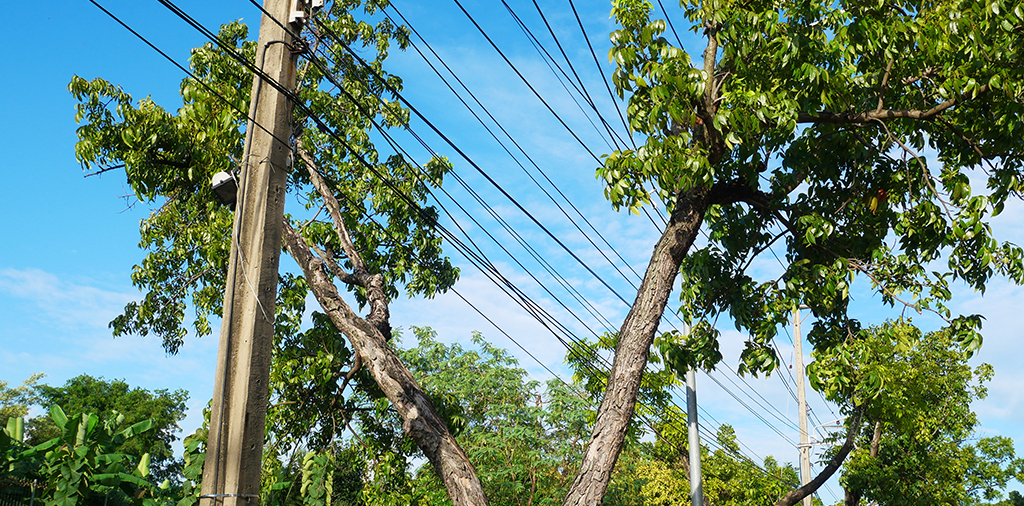 Are trees touching power lines dangerous?
It is important to know that trees that come into contact with power lines can be very dangerous.
Trees can carry electricity – especially if it is a high voltage power line. This means there is a risk of electrocution should anyone come in contact with the line or three.
Be sure to take extreme caution and do not let your pets or children outside if there is any potential risk that your trees may be conducting electricity.
Do only trees resting on power lines conduct electricity?
No. Even if a power line isn't directly touching a tree, it can still be dangerous.
Currents can harm or kill someone, and can also cause a fire.
Never assume your trees are safe when power lines go down.
How do trees conduct electricity?
The moisture within the trees can conduct the electricity without touching it. This creates a very dangerous situation that could result in death or fire.
Can branches conduct electricity?
Branches can conduct electricity. When a tree is in contact or comes close enough to a power line, it can be energized. This can be very dangerous as it may lead to electrocution to anyone touching it or can cause the tree to catch fire.
Who should I call if a tree has fallen on my power line?
Sturdy Power Lines is proud to deliver professional electrical support from Lake Ontario to Muskoka and Guelph to Oshawa.
Should you require Emergency 24/7 Service, please contact us immediately at 905‑775‑6829 or 1‑888‑478‑8739.